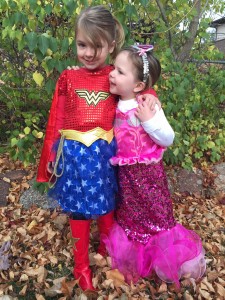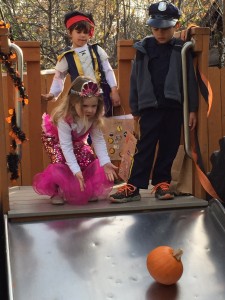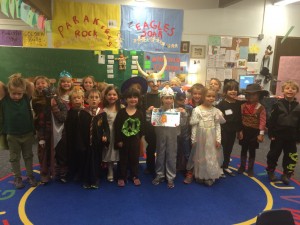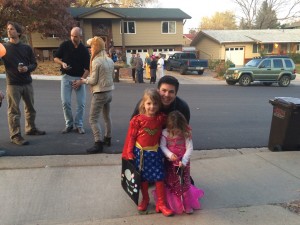 Halloween was a screaming success! The girls chose their costumes this year and decided on 'Wonder Girl' (Lilly) and 'Pink Sparkle Mermaid' (Robin). They were both cute as can be as they left the house for their school parties in the morning. I was in charge of organizing the Kindergarten party at Mesa and wouldn't have changed a thing; the kids were busy and happy the entire time and left the party with some fun projects and goodies. Bill helped out with the party at Robin's school. It is their biggest event of the year and Robin had a blast participating in all of the games for her first time and being part of the parade. Sunflower does a truly amazing job – the photos of Robin's smile during the parade (Flickr link) are not to be missed!
I was able to watch Lilly's school parade in the afternoon and we had a short time to rest before heading out for the kids party at Karli & Kaj's house (1st annual, in their garage). It was fun chatting with friends while the kids played Halloween games, and thanks to Karli's advertising Heidelberg Dr. was 'the place' to trick-or-treat, with hundreds of kids running up and down the street. We had more kids at our house than ever before. Robin was particularly enthusiastic about trick-or-treating this year, running from house to house until she just about ran out of energy at the top of the hill. Bill had fun passing out beers and talking to friends, several of which ended up at our house after trick-or-treating. A great tradition, great neighborhood, great friends, can't wait to start planning for next year's event!
For the complete set of photos, click here.