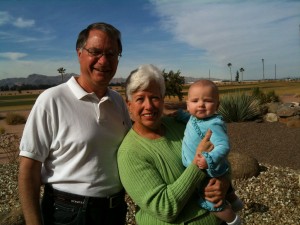 We have been in Arizona since Christmas Day and are enjoying our time here.  It was so nice to spent time with my brothers, cousins, and niece.  Lilly adjusted to the time change immediately – I was actually surprised.  Her naps were on schedule and she slept right through them.  She was also mostly sleeping through the night.  I'm certain that watching Leela wore her out!
Leave it to our little girl to change her sleep patterns on us once everything settles down!  The past three nights she has been up several times a night.  She isn't hungry – just needs some help settling back to sleep.  We think she has hit her 6 months growth spurt or has a little bug (Todd and Bill have both been sick.  I'm sure it will work itself out shortly.  Meanwhile I'm sleeping better than I have since she was born, which is wonderful.
We have taken advantage of the weather each day.  It doesn't get any better than 72 and sunny – which it has been every day this week!   Bill & I visited Scottsdale Sunday and sat by the pool and Lilly & I have taken daily walks and even played pickle ball.  I have made it to the gym every day and started running again.  Bill has done a lot of intense bike riding as he continues to heal from stress fractures.  I have been riding bikes a lot as well.  Actually, I'm kind of upset that I let my mom take my old bike to AZ with her!