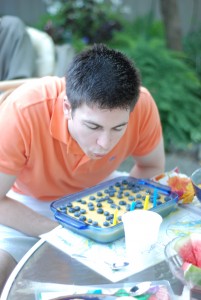 Yesterday was Bill's 29th Birthday!  We celebrated Thursday evening at his parents house.  Judy made our favorite peanut chicken and Bill asked to have mango pudding for dessert, which we made together Wednesday evening.
Yesterday we went to the Chop Shop in Birminham to prepare 12 meals for the freezer.  We now have plenty of goodies (including the homemade cookies, zucchini and banana bread, and spaghetti sauce I made earlier this week) to get us through the first few weeks without leaving the house too much.  We also went out for Korean BBQ at Shilla, which was the location of our first date.
Bill was kind of hoping that he would share his birthday with our little girl.  Although that didn't happen we can't wait to celebrate her birthday soon!