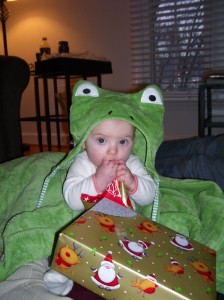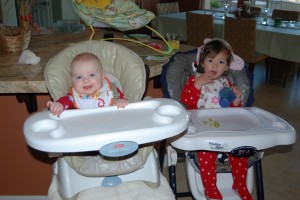 Lilly's first Christmas was a huge success.  We started things off with Christmas Eve dinner at Grandma Judy and Grandpa Bill's house.  Great-Grandpa Bill, Grandma Peggy, Uncle Mick, Uncle Jack, and cousins Jessica and Gordon joined us for dinner and a gift exchange.  Lilly was a natural at opening her packages – she went right for the bows and tried putting all of the wrapping paper in her mouth!
Christmas morning was spent at our house with Grandma and Grandpa and Aunt Martha.  The grandparents continued their tradition of spoiling our little one 🙂 and Aunt Martha had fun playing with Lilly while Bill and I finished packing for Arizona.
Our flight to Arizona left at 5:45 on Christmas Day.  Thankfully the airport was dead and the plane ride was mostly uneventful.  Lilly slept for the first 20 minutes and then was up for the rest of the 4 hour flight – grabbing on to the poor guy next to us and 'talking' to the people who passed by.
Lilly quickly adjusted to the time change with no problems at all.  Christmas morning in AZ (26th) we opened stockings, had a lovely brunch, and opened packages.  We were thankful to spend the time with Uncles Mark and Todd, Aunt Pinata, and cousins Leela, Jason and Billy.  The past few days we have spent relaxing, going for walks, and playing pickle ball.  We even went out to a movie for the first time since Lilly was born – Avatar.
To see additional photos, follow this link